Overview
Empowering the demanding needs of intelligence analysts, law enforcement, investigators, researchers, and information workers, Sentinel Visualizer is the next generation data visualization and analysis solution for your big data.
With cutting edge features and best-of-breed usability, Sentinel Visualizer provides you with insight into patterns and trends hidden in your data. Its database driven data visualization platform lets you quickly see multi-level links among entities and model different relationship types. Advanced drawing and redrawing features generate optimized views to highlight the most important entities.
Social Network Analysis (SNA) metrics reveal the most interesting suspects in complex webs. With advanced filtering, squelching, weighted relationship types, shortest path analysis, timelines, and integrated geospatial features, Sentinel Visualizer helps you maximize the value of your data.
Product Highlights
Integrated knowledgebase, link analysis, social network analysis, geospatial, and timelines
Industry standard database format
Supports network multi-user environments
Laptop deployable
Multiple monitor support
Originally created for the intelligence community
FREE Trial Version
No Dongle
Link Analysis
Turn rows and columns into visual data revealing multi-level hierarchical relationships and hidden links among people, places and events.

Data Visualization
See the connections between things with multiple formats including link charts, geospatial views, timelines, and 3D displays.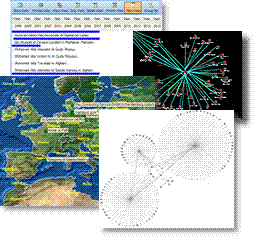 Social Network Analysis
Employ automatic Social Network Analysis to instantly identify key points, centrality, and node importance by a variety of criteria.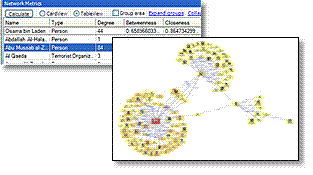 Integrated Knowledgebase
Only Sentinel Visualizer gives you a powerful and configurable knowledgebase that makes it easy to store any information: text, graphics, documents, video, audio, etc. Move beyond simple "cards" with a flexible multi-user data repository that is directly integrated with visualization and analysis tools.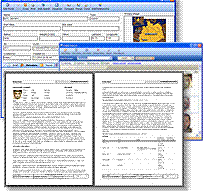 Sentinel Visualizer Takes You Beyond Traditional Link Analysis
Data visualization capabilities including 2D and 3D link charts and stereoscopic graphs
Built-in Social Network Analysis and Advanced Network Analysis
Automated layout tools to organize complex network charts
Detection of network cut-points
De-clutter tools to filter out noise and non-credible information
Advanced tools such as shortest path, all paths, and gradient metrics
Automated cluster/cell detection
Supports an unlimited number of databases
Integrated scalable entity and relationship knowledgebase
Name disambiguation through aliases and fuzzy searching
Grading of reliability of source and credibility of information for relationship information
Built-in support for storing any type of document (binary or text) in the knowledgebase
Administrator-configurable data types
Extensible metadata model for complete customization
Data import wizard for easy integration with many data sources
Dataset Builder to build complex queries quickly
Rich reporting exports to Excel, Word, PDF, and HTML
Export data to industry-standard XML format